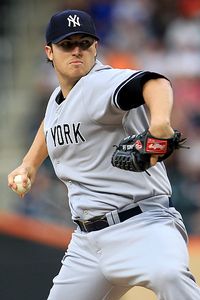 (ESPN)
Last week,
Nick brought up AJ Burnett as a possible bounce back candidate
and for the next couple of weeks leading up to Spring Training and the season, we will highlight a few more of these guys. These are players that had a down year last season that have a good chance of rebounding. I'm gonna stay in the starting rotation for this one and talk about Phil Hughes.
To say that Hughes' 2011 was a disappointment would be a pretty big understatement. Once ranked as the best pitching prospect in baseball, he had something of a break out year in 2010 pitching to a 4.19 ERA while striking out about seven and a half per nine innings and walking less than three per nine. A lot of people slated him to be the Bombers number two starter in 2011. Many thought he was going to finally realize his potential and take that next step forward and represent young Yankees starting pitching. He would finally be the guy that the Yanks 'developed correctly.'
There was one problem however. Hughes threw around 90 more innings in 2010 than he did in 2009, which is quite an increase to put on him. As luck would have it, he would have a case of dead arm early in the season. Instead of resting him right away, they decided to keep pitching him and hopefully as the weather warmed up, so would his arm. This was not the case. Not only did Phil lose a couple of mph off his fastball, but he also lost his command. Also, without the extra velocity, his cutter became essentially useless making him a two-pitch pitcher. It was a recipe for disaster from the beginning.
So they DLed him and gave him a ton of rest to get the inflammation down in his arm. When he came back, he was better, but the same. It is clear that Hughes wasn't healthy last year so we can't expect him to be that bad going forward. That being said, we also can't expect him to return to 2010 form. His fastball and cutter should be back along with a much tighter curveball. A pitcher doesn't just lose two strikeouts per nine innings in a year.
(Click to enlarge)
You can also make the point that if he is given the number five starter job, he won't have much pressure on him due to the new front-line depth that the team has acquired this off-season. I'm sure if this will actually have an effect on him, but it definitely won't hurt. There is also the point that Hughes was a bit out of shape when he reported to camp last Spring. That definitely couldn't have helped his performance and he has reportedly been working out all Winter long which should give him an edge right from the get-go.
Of course, the one thing I haven't mentioned is the fact that a lot of this hinges on the fact that he will be the number five starter in the upcoming season. He has the most upside of any of them candidates and can be a part of the rotation for years to come. There is a chance that he does wind up in the pen and if so, it will be harder to consider him a bounce back candidate.