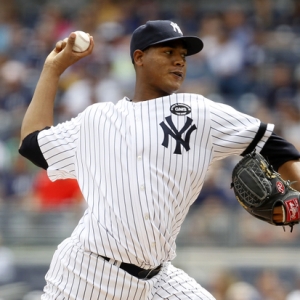 A pitcher with a 16-4 record is often considered dominant - when he takes the mound, his team has a better chance to win than with an average pitcher.
However, if I told you this pitcher, on average, received 4.42 runs to work with per game (through mid-September of last season) and only went 4-4 in games he received less than 4.42 runs per game from his teammates, would you still believe he was a star?
The pitcher I am talking about is Ivan Nova. And, quite frankly (to quote Stephen A. Smith), I am a little bit sick of hearing what an great year he had in 2011. Statistically, Ivan Nova's year was, at best, good.
I know what you're thinking: Any 24 year old who wins 16 games is destined for stardom. I am not one of these people. Here are the facts about Ivan Nova's 2011 season:
1) He struck out less than 100 batters last season (98 to be exact).
2) He, on average, pitched only slightly over 6 innings per game in games he started.
3) He walked about 3 runners per game last season.
4) He threw 11 wild pitches, 9th worst in the AL (at least he wasn't A.J. Burnett, who led the league with 25 - yikes!).
In my opinion, these are not the stats of a bonafide ace, or even a number 2 starter. In my mind, these stats are befitting of a good rookie pitcher.
To be fair, here are some of the bright spots of Nova's 2011.
1) He only allowed 13 home runs in 165.1 innings pitched
2) He allowed slightly less than 1 hit per inning.
3) He had a 3.70 ERA, which is very good for the AL.
Nova is not the guy whose stats jump out at you. He is a good control pitcher with a lot of room for improvement. I hate to make this comparison, but his stats are very similar to Chien Ming during the 2006 and 2007 season. Wang posted a 3.63 and 3.70 ERA (compared with Nova's 3.70) respectively and won 19 games both years. When a pitcher posts this types of ERA and wins 19 games, it is obvious his team is scoring (and scoring early in the game) to give the pitcher a chance to pick up a win.
There is a particular word that scouts and fans so endearingly tag to players whom they expect to succeed, or improve, eventually. That word is "potential". In my opinion, potential is an empty word because it only tags expectations to players. It is clear Nova has potential. It's just up to him to prove whether he lives up to his reputation as the "Super Nova".