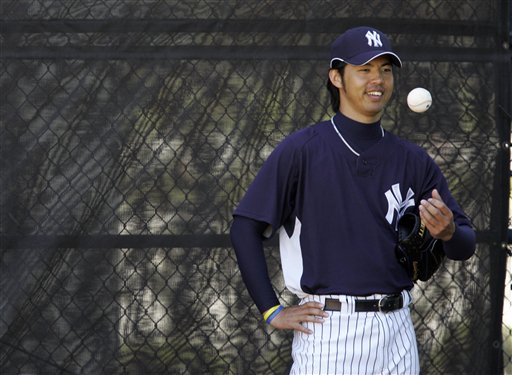 Now here's a question that probably has been driving the Yankees universe crazy: Where in the world is Kei Igawa?

Well in the last few days, his agent has said that Igawa has been drawing interest from teams in the United States and Japan to play in 2012. When asked if there was a need for him to take a year off, the agent said no.

In his blog, Igawa said that he did not know what the status was for his pitching and would leave things up to his agent. He said that he was able to throw 30 pitches off a mound and has been working out. The Yankees did not invite him to Spring Training.

The Orix Buffaloes have been aggressive in their push to sign him, if he returns back to Japan. They left an open spot on the roster for Igawa and he has still yet to decide on what to do.

In his spare time, his blog says that he entered a 128-team soccer tournament and won his regional division. He could be lucky to find success in another sport, because the Yankees experiment of countering the Daisuke Matsuzaka signing flopped.

He has been the punchline of many jokes and as much as fans may enjoy mocking him, New York has most likely seen the last of Igawa in pinstripes. Well, more like the minor leagues has seen the last of Igawa.