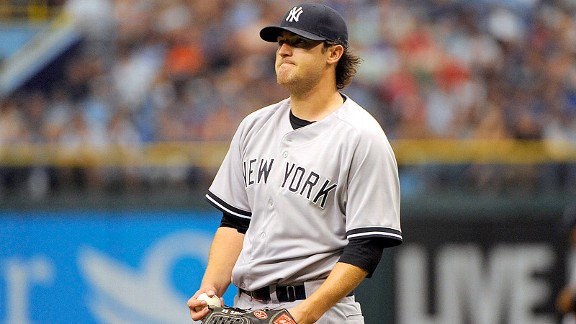 (ESPN)
Earlier today,
I wrote about the Yankees starting pitching depth and how it's starting to thin out
. Later on, we received word that
Michael Pineda will be out for the entire season with a torn labrum
. With Andy Pettitte still three starts away, someone needs to step up and it would be nice if it were Phil Hughes. Obviously the Rangers are going to give him a run for his money, but a good outing here would be a nice confidence booster for 25 year old. Here's the lineup:
Derek Jeter, SS
Curtis Granderson, CF
Alex Rodriguez, 3B
Robinson Cano, 2B
Mark Teixeira, 1B
Nick Swisher, RF
Raul Ibanez, LF
Eric Chavez, DH
Russell Martin, C
And it will be Hughes on the bump. This one will start a little after 8 and can be seen on YES.