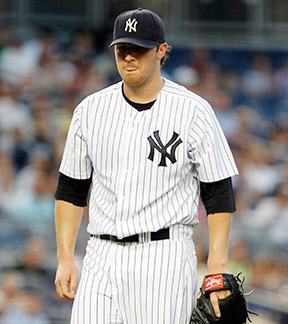 (US Presswire)
I have a rant that I need to get out of me, and no it's not about Michael Pineda. That topic will be beaten to death over the coming weeks and months, and we will also talk about on this weekend's podcast. I want to talk about Phil Hughes and his inefficiency, ineffectiveness, and future. It's not something I wanted to do, but he hasn't given me any other choice.
Hughes was a top prospect all the way back in the mid-2000's featuring a big fastball and plus curveball. He made his Major League debut against the Blue Jays and although he didn't get through five innings, there were signs that he showed as a 21 year old that made one think he could be very good. However, he threw close seven innings of no-hit baseball in Arlington the following week. He looked great, but on the last pitch he threw, a curveball, he tried to over-extend and wound up popping his hamstring. Things would never be the same.
Hughes has been jerked around endlessly between the starting rotation and the bullpen because even though he would be more valuable as a starter, his stuff played up in the bullpen. In 2010, he had a solid year, but supposedly threw too many innings, which caused shoulder inflammation for basically the entire '11 campaign. Two years away from free agency, many consider this to be a make or break year for Phil, but so far he has not answered the call.
I understand that he hasn't gone through the best developmental path, but he's still 25 years old and he's running out of time both in the short term and the long term. The former because Andy Pettitte is on his way back and the latter because he looks more and more like a reliever every time I see him toe the rubber. He throws too many pitches and yields too many foul balls and has only lasted five innings one time through his first four starts.
Management has shown all the patience they can with him, plus some more, through the media, but
as I said in the game recap
the other night, the early hook that Joe Girardi utilized on Wednesday may foreshadow that they, or at least, he is starting to lose a little faith. I know that this was the game that I completely lost it and I no longer expect anything from Phil Hughes the starter. I'm done trying to defend him and I don't think he's part of the rotation's future anymore. I hope he turns it around and proves me wrong, but I really doubt that happens.