It was hella hot in the Bronx, but Hughes was not.
The New York Yankees recently sent scouts to take a look at Houston Astros pitcher Wandy Rodriguez in his latest start against the Kansas City Royals. Rodriguez has been put on the trading block and the Astros will be listening to offers before the July 31st trade deadline. With Phil Hughes' latest start in which he surrendered four homeruns to the Atlanta Braves and took the loss, could the Yankees be after the 33-year old left-hander.
Simply put, the Yankees do not have that great of a need for a starting pitcher right now. The recent 10 game winning streak was bases by excellent starting pitching by the Yankee starters. Up until Hughes' 4 1/3 innings pitched, the starters went 19 consecutive games in which they pitched six or more innings.
Hughes could still be a candidate to be packaged in a deal elsewhere. He still has the talent to win ballgames, but this main issue is that he surrenders too many homeruns. Which brings up the question; is New York's ballpark is the right fit for him? If he took his repertoire to a stadium, where pitchers can comfortably get fly balls hit off them, he could turn his career around.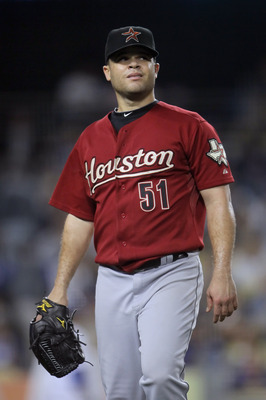 The Yankees would definitely not rush things and make a deal now. If any trade is completed, it will be done from mid- to late July. Hughes got off to a rocky start in 2012 and as a result his statistics are inflated. A bit more time is needed to assess whether he has found some sort of rhythm with New York.
The Red Sox are also looking at Wandy Rodriguez. If anyone needs help with starting pitching, it is Bobby Valentine's squad. While the Yankees rest atop the American League East, the Red Sox find themselves trailing by six games and only half a game away from the cellar. Surrendering a prospect or two will be no issue for the Red Sox front office if they find themselves in a similar standings situation by the middle of July.
It is early to assess the trade market, but in a few weeks things could be heating up quickly. Who knows if the Yankees just end up calling up a prospect and he goes on a winning surge much like Aaron Small in 2005. There is no need to call for a trade just yet.