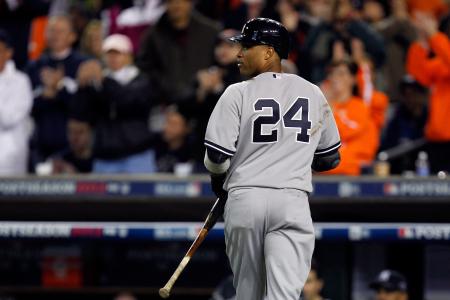 Cano will be back in 2013 (See what I did there...)
The New York Yankees' left side of the infield is nominated for Gold Glove awards for the American League.
Robinson Cano
and
Mark Teixeira
hold it down for the Yankees when it comes to making defensive plays. The offense that these two Yankees provided was just one of many pieces that helped the team put together the best record in baseball over he entire regular season's 162 games.
-------
Cano will most likely finish among the top five in the American League for Most Valuable Player voting. He was the team's best offensive player in the lineup going into the postseason...after the regular season ended that was not the case. This is the third straight year in which Cano has made the case for him to be called the best second baseman in Major League Baseball.
He set a single season best in homeruns, doubles, runs, and even walks. There was patience shown at the plate in some cases and that is something that was not seen by Cano early in his career, which shows maturity and strides forward. If you want to get into all the sabermetric statistical categories, well he set bests in them too.
The team picked up his option on Monday morning, so he will be in pinstripes in 2013. A long term deal will be discussed at a later time, but he has made himself the pillar of the Yankees' future. If you took him out of the lineup in 2012, New York would have not made the postseason. He was the core of a team that was rattled by injuries.
-----
Teixeira's main focus going forward will be to get back at 100% health after a calf strain sidelined him for most of September and he hobbled his way back into the lineup for the postseason. He looked solid in the American League Divisional Series, but as went with everyone else he disappeared against the Tigers in the Divisional Series.
When he signed in 2009, he was still known as a power hitting first baseman. Fast forward to where we are now and much like Alex Rodriguez, people are still holding him to that standard. (Mind you, these are the same people that complain about having too many homeruns.)
At 32 years old, he is adjusting his swing and his approach and seeing the effects. He only played in 123 games in 2012, which is not normal for a guy that played every day for in his Ranger days. He's a hard worker. This offseason, he will focus on getting all the pieces of his swing right for 2013.
He had the terrible cough and struggled, while people called for him to be banished from New York. Then two months later, the wrist became an issue. Finally, the calf crashed in August. 2012 was just a year of hurt for the first baseman, but he still did what he could defensively for praise.
If all goes well, 2013 should be a positive year after one bad year for Teixeira and an injury stricken year.