C.C. Sabathia has an ability to make his "bad" look "pretty good".
His weight has been an issue since he came into the majors. He has found a way to make it work.
According to FanGraphs, he lost some speed on his fastball this year
. His fastball had an average speed over 93 in 2011, and it has been over 93 for his entire career. This past year, it was 92.4 MPH. He still had an ERA less than 3.40.
Over the past two seasons, (excluding the postseason), he has allowed more than five earned runs in a start seven times. In all seven games, he has pitched over six innings.
He finds away to make it work, and that's precisely why I'm worried about him next season, and moving forward after that.
The Future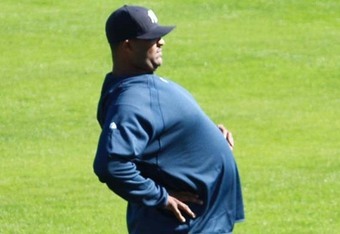 There's no denying Sabathia is the best starter on a team that seems to constantly be searching for answers on the mound.
Sabathia still has some glaring problems.
His weight is the most significant issue. He is 32, and weighs almost 290 pounds. He's not short (6' 7"), and he's obviously not "all fat", but that means his body mass index is 32. That puts him in the "obese" category.
It's clear he has handled his weight in the past, but who's to say that will continue?
I would rather have Randy Johnson at age 32 than C.C Sabathia. They are both around the same height, but I know Johnson will keep himself in playing condition.
It's just one less thing to worry about.
Losing speed isn't necessarily a problem for the best pitchers. They find a way to adjust because they cannot blow fastballs by hitters any more.
Sabathia does have a few pitches that will serve him well over the next few seasons. It's unrealistic to expect him to turn into Greg Maddux, Tom Glavine, or Pedro Martinez, but if there's one player on the Yankees that can do that, it's C.C.
Regardless of how good Sabathia is moving forward, the Yankees certainly have a ton of money invested in him. He's going into the second year of a five-year, $112 million extension that will keep him with the team through 2017.
He's lived up to his contract with New York so far, but there's no guarantees we will be saying that in a few years.