(Denis Poroy)
In the quest for AL East Domination, only one team can be king in a division that holds five competitive teams.
Up until last year, that title was normally reserved for the Yankees and Red Sox.
The winds of change have been brewing, and those breezes turned into gale-force gusts yesterday when
Toronto acquired Jose Reyes, Mark Buehrle, Josh Johnson, Emilio Bonifacio, and John Buck.
They gave up Yunel Escobar, Jeff Mathis, and some minor leaguers.
It's important to understand how important this move is, considering the AL East, as a whole, hasn't been "as great as advertised" the past few years.
The Red Sox have failed to make the playoffs in three straight years.
The Rays haven't advanced past the first round of the playoffs since they lost in the World Series in 2008.
Baltimore lost last year in the ALDS to New York, but hadn't made the playoffs 14 straight years before that.
The Yankees have only won one World Series since 2000.
What exactly does this trade mean? For one, Toronto is tired of losing. The Jays want to contend, and they want to do it now. I could go on about what this means for Toronto, but what's much more significant is how the Yankees, Red Sox, Rays, and Orioles will react.
I bet the Yankees took notice of the Jays' trade.
Anytime a team acquires over 100 million dollars in payroll in one day, it's going to make its division rivals at least question where they are going.
----------------------------
The whole outlook of the AL East changed after this move.
New York, the typical big spenders, is looking to cut money (surprisingly). The Yanks want to be under a 189 million dollar payroll in a few seasons. I think that's improbable if the Bombers aren't winning titles, but George Steinbrenner isn't at the helm anymore.
Baltimore are the upstarts looking to prove they still belong. They fought the Yankees into September and October for the division title, and played some close games against the Evil Empire in the playoffs.
The Red Sox are reloading. Think of them like the British Army, post Revolutionary War. They just lost a lot of pieces, but have the money to change their team. They have a new manager, younger faces, but a solid group of vets (Pedroia, Ortiz).
The Rays want to show they are still elite. They have been competitive with New York four a few straight seasons now, but haven't proven their worth in the playoffs in awhile. They have young talent, and lots of it, but that's about all you can say.
That leaves Toronto, the "unwanteds" who turned into baseball's hottest story, want to join the party. It's been too long for a franchise that won back to back titles twenty years ago and hasn't really done anything since.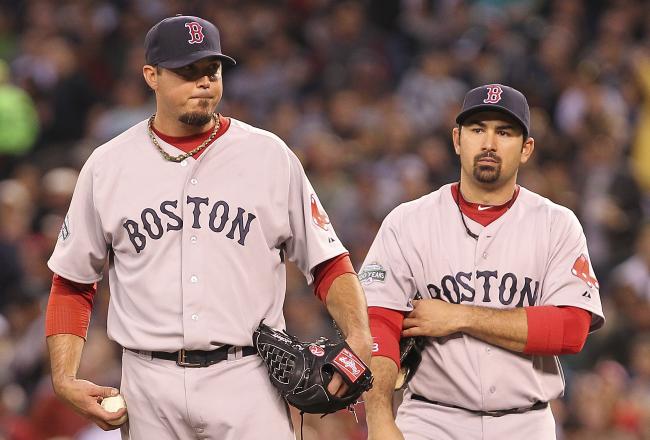 The Sox made a similar salary-dumping move this season.
(Otto Gruele Jr/ Getty Images)
----------------------------
It's important to note the Rome wasn't built in one day, but this still pressures other AL East clubs.
Think about it, general mangers try to make their clubs as competitive as possible within reasonable means. It's impossible to sign one player and change the franchise, but public relations messages go a long way.
Toronto made a big PR move yesterday. They brought in three very talented players who had sub-par years to play along side some good young pieces. Jose Bautista and Edwin Encarnacion now have some other legitimate players around them in the lineup.
Toronto's pitching staff looks much better too.
All three of these players look overpaid right now, but consider what the public's perception of them was before last season. Buehrle was a perennial CY Young candidate who played well in the AL. Josh Johnson was considered one of the best pitchers in baseball. Jose Reyes was baseball's most exciting player when he gets on base. It'll do him some good to DH every now and then.
If these players stay healthy, it could change the face of the AL East. Don't think the Yankees aren't paying attention when they get outspent.