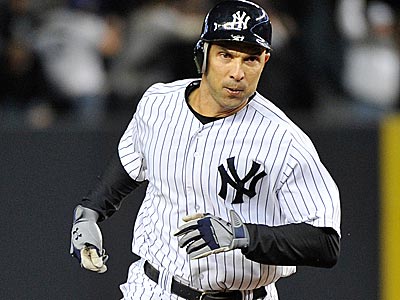 In the last few days, the
New York Yankees
have been beaten out by several teams to sign a free agent to replace
Alex Rodriguez
. Some negotiations may have been serious while others were just considerations. One of the players that the Yankees lost out on was
Eric Chavez
as he signs with the Arizona Diamondbacks.
He was an option to bring back and platoon to fill in for Rodriguez's absence, but the Yankees did not act quick enough to top a $3M deal by Arizona.
The next 2012 Yankee that could decide to walk is
Raul Ibanez
.
Sherman notes that the Mariners are considering him to platoon
with newly signed outfielder Jason Bay. The New York Post baseball insider also noted that Ibanez has a home in Seattle that he will move to upon retirement.
Ken Rosenthal of Fox Sports reports
that the Rangers are also interest in Ibanez and it appears that the Phillies may want to take part in a reunion with the slugger as well.
Ibanez was clutch for the Yankees in the playoffs and New York has him on their watch for a possible outfielder role next year. New York has not been aggressive in negotiations, while Seattle is making a push.
Chances are that by the end of the week Ibanez will not be wearing a new uniform, but one that he has donned in the past. That all depends on they way he looks at the past and if he chooses to wear the Mariners uniform that he wore from 1996 to 2000 and then again from 2005 to 2008.