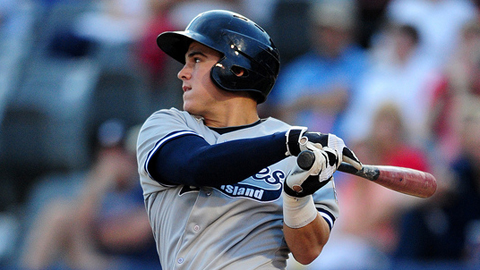 (MiLB.com)
With a half-season worth of games in the books and the 2012 draft signing period past, I figured that now would be as good a time as any to release my mid-season top 20 prospects. Nick and I both released pre-season lists, but a lot has changed since then. Injuries and ineffectiveness have hurt some guys, but there are others who have stepped their games up a notch. So without further ado:
Manny Banuelos, LHSP/21/AAA-

First a lat injury early in the season and now a sore elbow that has kept him out since May. This is turning into a lost season for the lefty, but at least he has started throwing down in Tampa. Maybe he can start making his way back soon. He has pitched to a 3.83 FIP in 24 innings when healthy.

Gary Sanchez, C/19/HiA- In 86 games in his repeating season at Charleston, Sanchez posted a .390 wOBA before getting bumped up to Tampa. Reports have said that his defense is much improved and that he now has a very good chance of staying behind the dish. This is awesome news since this was always his biggest question.
Mason Williams, CF/20/HiA- Williams continued his great play after a break out 2011 in Staten Island posting a minuscule 10.6 K% in Charleston along with a .378 wOBA in 69 games. He looks like he's starting to come into some power as he has nine already on the year after blasting just three last season. These big numbers have helped him get promoted to Tampa where he has struggled a little bit out of the gate.
Tyler Austin, OF/20/HiA- Austin just made the transistion to the outfield this year and is apparently doing decently well with it. But that's not the story. A .450 wOBA in 70 games with Charleston is the real thing here. Keith Law talked about him becoming a top 100 guys soon and Austin has done everything in his power to make that happen. Not only way he hitting for power, but he also was hitting .320. After getting pushed up to Tampa, he was hit in the head with a pitch and is on the DL with a concussion.
Jose Campos, RHSP/19/LoA- Has pitched to a 3.24 FIP with that same Charleston team in 24.2 innings and was really dominating hitters until his last start when he felt fatigue in his elbow and was shut down. He has pitched in a game since, but has started throwing in Tampa. Hopefully, he comes back at some point because he was great when he was healthy. (Reminder: he's the second piece the Yanks got in the Montero deal).
David Phelps, RHSP/25/MLB- In a relief role and spot starts for the big league club, he has shown that he is major league ready pitching to a 3.05 ERA in 41.1 frames. He's now stashed away in the bullpen as the sixth starter in case someone gets hurt. He could also be the subject of many trade talks and is getting awfully close to losing his prospect status.
Rafael DePaula, RHSP/21/DSL- Has finally secured his visa, but is not stateside. Is he is, however dominating the Doimincan Summer League pitching to a 1.51 ERA and striking out 47 in 35.2 innings. Not too bad, but they need to start moving him up soon.
JR Murphy, C/21/AA- After a short stint in Tampa last year, Murphy started there this year and didn't necessarily dominate (.322 wOBA), but was making a lot of contact and his defense was reportedly very good. He had to be something right after all since he was recently promoted to Trenton where he has hit very well in a small sample. I'm a big believer in the bat and if he can stick behind the dish (which it looks like he can), things look good.
Dante Bichette, 3B/19/LoA- The Yankees first selection in the 2011 draft has slowed down a bit in 2012. After a great pro debut in the GCL and being skipped over short season, he has been holding his own, but isn't displaying the same power he showed early. He's only hit two homers and is hitting .249, but has a respectable walk rate (8.8%) and a very manageable strikeout rate (18.1%). He's shown some flashes, but hasn't been able to go on a tear.
Ty Hensley, RHSP/18/GCL- Hensley was the Yanks first round selection this year and unfortunately they weren't able to sign him quickly because of the shoulder abnormalities. Obviously, it's nothing too serious if they still gave him $1.2 million. He sits at 92-95 with the fastball and touches 97 with it, but his 12-6 breaking ball is his best pitch apparently. He makes his pro debut next Monday, so we'll finally get to see some numbers which is pretty exciting.
Ravel Santana, CF/19/SSA- Santana was the talk of the GCL last year with his plus speed, plus raw power, and plus arm strength, but many were skeptical since he was coming off of a brutal ankle injury. He got off to a very slow start in Staten Island (0 for 11, 8 K's) and after a few days off to clear his mind and work on some things he has improved quite a bit. He's up to .232/.344/.305 . Although he's striking out a lot, he's also walking a solid amount too so that's nice to see. One scout told me he just doesn't know how to hit, meaning he's just a total hacker and the swing is way to long. We'll see if he can make adjustments.
Austin Romine, C/23/AAA- This season has kind of been a lost one for Romine as he's been out since Spring Training with that back ailment. It's a shame too because he can use a full year at Triple A and he could have made a play at being the starting catcher next year with the type of season that Russell Martin is putting together. He has started his minor league rehab, however, so hopefully he can get back up soon and salvage something.
Brett Marshall, RHSP/22/AA- Marshall started out the year as one of the only prospects on this Trenton team and although the results are good, I'm not completely buying it. He's striking out less than six per nine innings and walking more than three per nine. He has done a good job of getting grounders and keeping opponents off the scoreboard (3.00 ERA) so that's nice to see, but I'd like to see him miss more bats.
Ramon Flores, OF/20/HiA- I talked to a scout the other night that loved Flores and if you look at his numbers you'll see why. The player BA ranked as having the best plate discipline in the system has posted a .358 wOBA in 408 plate appearances and has hovered around .300 with the batting average for the last couple of months. He may be a tweener since he doesn't really have the power to move to profile as a left fielder and he doesn't have the speed to play center, but he's still a valuable guy to have if he keeps hitting.
Slade Heathcott, CF/21/HiA- Heathcott missed most of last year and the first few months of this season coming off shoulder surgery. However, he's now back with Tampa and has finally started playing some outfield after playing exclusively DH for a while. It'll be interesting to see how much he has left because he's now had two shoulder surgeries in the last three years. He started out really hot with Tampa, but has cooled ever since. The key is going to be keeping him on the field and playing.
Nik Turley, LHSP/22/HiA- I'm a huge Turley fan and he's had to fight through some blisters, but he's been effective on the bump. He's pitched to a 2.94 FIP in 73.1 innings with Tampa this year striking out more than a batter per inning. The popular comp with him has been Andy Pettitte, though I don't like doing that too much. He has a good chance of being a back-end contributor in a starting rotation though and hopefully we see him in Trenton soon.
Dellin Betances, RHSP/24/AA- This ranking is mostly based on stuff, but his stock has taken an ugly turn this year as he almost had as many walks as strikeouts in Triple A. After a demotion to Trenton he has been pitching a lot better and his control has been fantastic. Obviously, he's been in Trenton before and there's some comfort there, but it is encouraging. Let's just hope he can keep it up when he gets back to Scranton. I still think he's a reliever long term.
Angelo Gumbs, 2B/19/LoA- Gumbs is another guy I'm high on and so is almost every scout I have talked to about him. He's got a ton of tools, but is very raw and if he does stick at second, he'll be more of an offensive guy. He's started to unlock some of that potential this year with seven homers, a .352 wOBA, and 26 stolen bases. He's hurt right now, but hopefully he keeps it up when he gets back.
Mark Montgomery, RHRP/21/AA- Montgomery was a lateish round draft pick last year and turned into a heck on a find. His good fastball combined with his plus slider has allowed him to move up the system very quickly. He was just promoted to Trenton, which to me was long overdue since he was striking out more than 13 per nine innings and getting a fair helping of grounders. He's a guy who can be a shut down reliever at some point, and although he'll be nothing more than that, it's still valuable to have a guy like him this high in the system.
Corban Joseph, 2B/23/AAA- Joseph started the year on the disabled list and then went to Double A for the third straight year and started raking. To make room for David Adams to start playing every day, Joseph was bumped to Scranton and has hit quite well posting a .362 wOBA and almost an identical K% and BB%. He doesn't have much value defensively and a switch to third won't happen because he doesn't have the pop, but the bat itself could still be useful probably more as a trade chip than anything else because of that Robbie Cano guy.